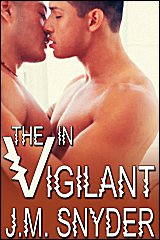 V: The V in Vigilant
Book 3 of V: The Series
by J.M. Snyder
Buy your copy today!
The V in Vigilant is book 3 in my V series. When Vic has a rough day at work, his lover Matt puts their telepathic connection to good use, tapping directly into Vic's needs to provide some relaxing downtime at home. However their sensual massage turns to serious talk, and Matt finally asks Vic the question he's been wrestling with for the past few months.
The next day, Vic's latest super power almost makes him call in sick. Then a disabled bus passenger is attacked, and Vic rushes to the rescue.